Orthotics

Ready Made and Over the Counter OR Custom made Orthotics and Insoles?
There are two broad types of orthotics - custom made orthotics or ready made/over the counter orthotics. Ready made orthotics are very useful if you need an inexpensive option. They can be a very good on a temporary basis or if you have a mild problem. However if you have a more severe problem which is causing you a lot of pain and discomfort then custom made orthotics are possibly what you need.
Orthotics can help pain from flat feet, excessive pronation, runners knee, plantar fasciitis, Achilles tendonitis, shin splints and iliotibial band friction syndrome. They can also help knee, hip and back pain.
Spenco Orthotics
Spenco orthotics (a type of arch support) worn inside your shoes can help stabilise and support your feet by stopping abnormal and excessive pronation. These orthotics can be for everyday use or for sport.
Superfeet Insoles
Superfeet insoles can help arch pain, flat feet, heel pain, plantar fasciitis, excessive pronation, tarsal tunnel syndrome, and tired and aching feet. These insoles can make your feet, and your body, much more comfortable. More information Superfeet Insoles
Custom made Orthotics
Further information about custom made orthotics with Sue Ferguson, Podiatrist
Contact Bill Ferguson
Osteopath Tenterden


Book an osteopathy appointment now
Tel: 01580 762754
Follow my work blog
www.tenterdenosteopath.co.uk

Ready Made Orthotics - Spenco

Spenco 3/4 length Orthotics
Ready Made Orthotics - Superfeet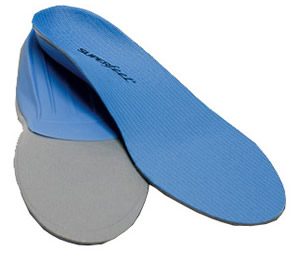 Superfeet Performance Insoles for running and sport to help control your foot movement and to help you run more efficiently