Special Topics
Acupuncture for Knee Pain

Muscle and Joint pain
The three areas that I treat most often with acupuncture are backs, shoulders and knees. I treat other areas as well, but they are the most common.
You can read about how acupuncture works here. In this article I am going to show you some of the points that I use most frequently.
Lets start with the knee: the knee is the biggest joint in the body, and one of the simplest. It is a modified hinge joint and the muscles that move the knee joint are all fairly easy to get to for acupuncture treatment. Most arthritic knee pain is felt at the front of the knee, along the joint margin and I would normally choose points such as St36, Gb34 and Sp9, the points will often be tender to finger pressure
Here are some pictures of a treatment using St36 and Sp9. Also shown are the same two points used with electroacupuncture. The sensation alternates between a pleasant tingle and mild muscle twitch.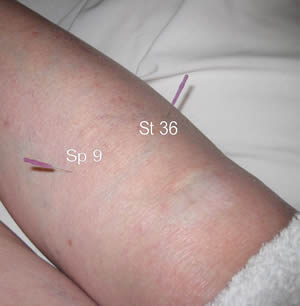 Acupuncture treatment using St36 and Sp9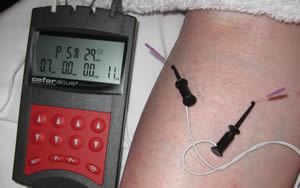 And the same two points used with ectroacupuncture
Bill Ferguson
Osteopath Tenterden
mail@billferguson.co.uk
Further reading:
Acupuncture from Tenterden Osteopath for lower back pain
Acupuncture from Tenterden Osteopath for shoulder pain