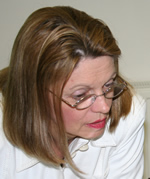 Sue Ferguson
Chiropodist and Podiatrist
www.sueferguson.co.uk
Tel: 01580 765546
Tenterden
Kent
Biomechanical foot problems needn't just affect the feet
Poor foot function can cause pain in your feet, ankles, knees, hips and back, and can even be associated with neck stiffness, muscle fatigue and cramp.
Sporting activities, such as running or golf, and place an even greater strain on a poorly functioning foot.
Orthotics (insoles worn inside shoes) can improve foot function to help reduce pain.