Special Topics
Osteopathy post-op Dental Surgery

Bone Augmentation Surgery
Osteopathy helps recovery
After any surgery there is likely to be discomfort; often due to swelling, as the body strives to recover. I find osteopathy very helpful as a way of aiding the natural healing process, initially the treatment will probably be a long way from the operation site and will be very gentle and of short duration.
Good circulation and drainage of fluids is essential for quick healing after surgery. As the patient improves the treatment can become more focused on releasing tension and mobilising to prevent adhesions.
Bone Augmentation Surgery
This month I have a case history to share. A patient in her early fifties came to me for osteopathic treatment to help recover from bone augmentation dental surgery. The actual procedure was a bone graft; a small section of bone was taken from one part of her lower jaw and moved to another area part of her jaw.
The patient had lost several molar teeth in her early teens and since then the bone had thinned and reduced in depth where the teeth used to be. Her dental surgeon explained to her that in order to have implants to replace these teeth there had to be sufficient width and depth of available bone for the implants to be inserted into. In her case she did not have enough bone. So an operation was needed first to enhance the amount of bone in the area and then in 3-4 months' time the implants could be inserted.
Treatment 1: Day of Surgery
On the day of the surgery; four hours after the procedure, I used osteopathic treatment to the lower neck and upper chest to relax the muscles and make it easier for the lymphatic system to drain away from her head and face. An hour and a half in a dental operating theatre with only local anaesthesia is quite stressful to the muscles as the mouth has to be kept open all the time.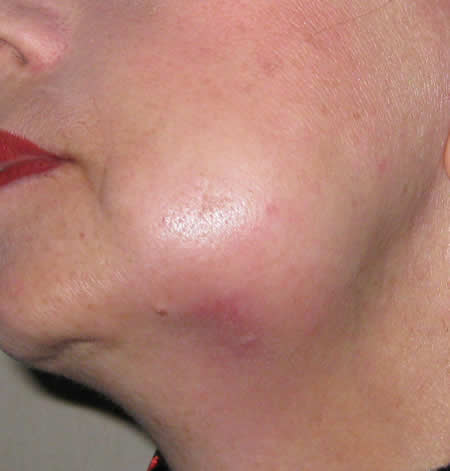 Dental implant bone augmentation surgery 1 day post op
Treatment 2: Two days after surgery
Two days after the surgery I was able to work around the cranial base and upper neck staying well away from the operation site, again looking to improve drainage and relax the head and neck muscles.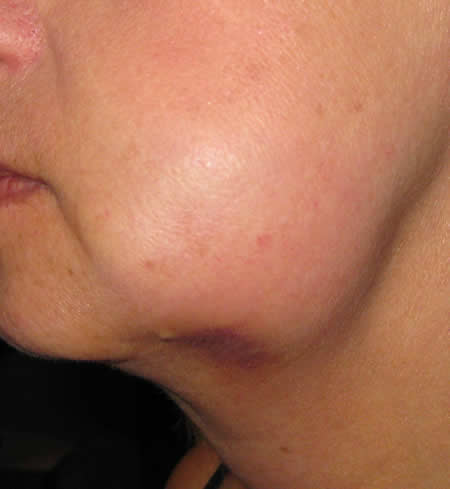 Dental implant bone augmentation surgery 2 days post op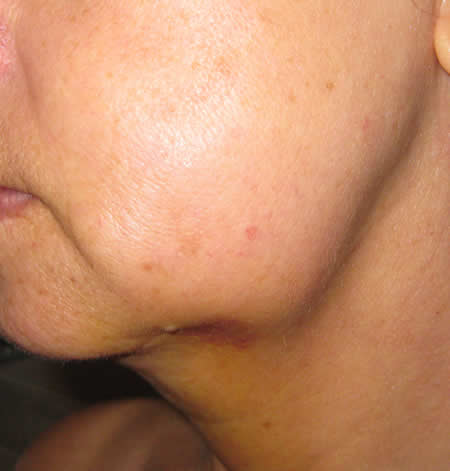 Dental implant bone augmentation surgery 3 days post op
Treatment 3: Five days post op
Five days post-op the swelling had reduced considerably, she had almost stopped taking painkillers (diclofenac) and the main complaint was that she couldn't open her mouth more than about ¾ of an inch. For this treatment I was able to work directly inside the mouth with sterile gloves on the jaw muscles (masseters and pterygoids) which increased her pain-free mouth opening to nearly two inches.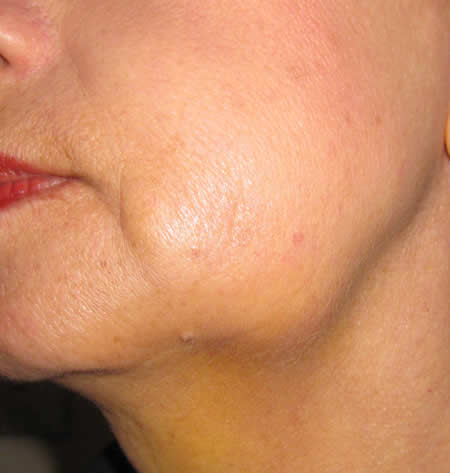 Dental implant bone augmentation surgery 4 days post op
Seven days post op
At seven days post-op, at the time of writing, painkillers are no longer necessary, the swelling has almost gone and the jaw is opening and closing much more comfortably with a near normal range of movement. In 3-4 months time the area will receive three titanium dental implants and no doubt there will be some more post-op work to do.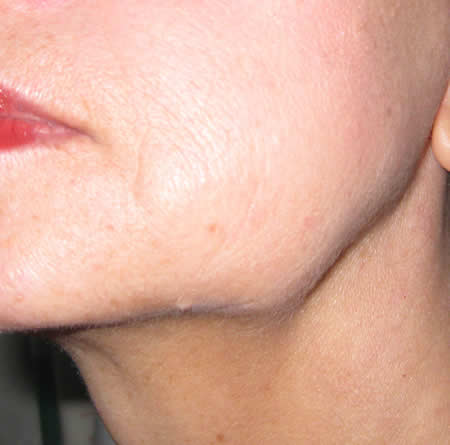 Dental implant bone augmentation surgery 7 days post op