Electroacupuncture

Bill Ferguson
MSc, DO, LCSP (Phys)
Registered Osteopath


Electroacupuncture is quite similar to ordinary acupuncture in that the same points are stimulated during treatment. Very fine sterile needles are inserted and then attached using small clips to a device that generates small electric pulses. Electroacupuncture uses two needles a few centimetres apart so that the impulses can pass from one needle to the other.




Electro-acupuncture machine

Two different frequencies are used: high frequency electro acupuncture produces fast pain relief by stopping pain signals from reaching the mind. Low frequency electro acupuncture has a longer lasting effect and causes the body to release pain blocking substances. In addition to pain, electro acupuncture is commonly used in the treatment of musculoskeletal trauma including over-use injuries (tendonitis or repetitive strain injury, RSI), muscle spasms and joint sprains. Knees, backs and shoulders respond particularly well to electro acupuncture.
The feeling is not unpleasant, some patients even fall asleep during treatment. The high frequency gives a tingling, squeezing sensation and the low frequency feels like light tapping. In treatment I would usually alternate between high and low frequency to get the benefits of each.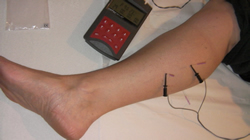 Electro Acupuncture for pain after leg cramp in the right leg. Single acupuncture needle in the soleus (deep calf muscle) and a pair of acupuncture needles with electrodes attached in the medial gastrocnemius (superficial calf muscle).
Contact Bill Ferguson
Osteopath Tenterden


Book an osteopathy appointment now
Tel: 01580 762754
Follow my work blog
www.tenterdenosteopath.co.uk